Download our White Paper on How IQF Grains are Meeting Consumer Demands
Click the image below to download a free PDF copy of our guide on How IQF Grains are Meeting Consumer Demands.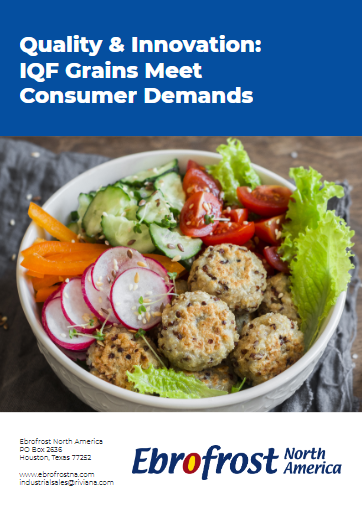 About the White Paper
Due to the COVID19 pandemic along with other general lifestyle changes, frozen foods have seen a recent surge in popularity. Always associated with lower quality meals, frozen foods are also seeing a dramatic change in quality as well with consumers demanding products that are free of artificial ingredients, additives and preservatives.
IQF (Individual Quick Frozen) foods are now becoming especially relevant as they can allow food companies to create frozen products that meet current customer expectations. Companies like our subsidiary, Ebrofrost, are leading the way with IQF technology, creating high quality, nutritious frozen rice and grain products.
It seems that as modern diets are becoming more plant based over time, frozen foods like lentils that position themselves as natural are simultaneously growing in popularity. Additionally, there is a wide variety of whole grain and rice products that can be cooked and frozen without the addition of preservatives, synthetic colors or any other additives.
There are many benefits to preparing meals with IQF technology. Frozen foods can be prepared conveniently and quickly without sacrificing any of the quality, meaning that they are perfect for people who are always on the go.
IQF food products also mean less waste as it is much easier for people to only cook what they need and to freeze the rest. Frozen food is also much less likely to be thrown away because of spoiling.