Download our White Paper on Innovation and Clean Label Instant and Parboiled Rice Products
Click on the image below to download a free PDF copy of our white paper on Innovation and Clean Label Instant and Parboiled Rice Products.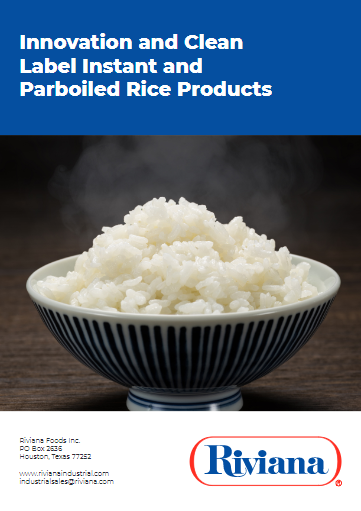 About the White Paper
Due to the fast pace of modern life, consumers are actively seeking out ways they can make simple yet healthy weekly meals as quickly and conveniently as possible.
Because of its nutritional value, Rice has always been a staple ingredient in American homes, however its long cook time is somewhat of a disadvantage for people wanting to make quick and easy meals on the fly. Due to food engineering along with state of the art manufacturing processes, we have been able to shorten the cooking time of rice along with increasing the product's shelf life, all without sacrificing neither taste nor quality.
Our instant rice products for example, can be ready in less than 10 minutes. Some of our instant rice varieties can be cooked in the microwave, whereas others don't actually require any cooking at all and can be prepared by just adding hot water.
Our high quality and nutritious parboiled Rice takes slightly longer to cook than instant rice, though it is more resistant to overcooking or overprocessing. This type of rice can be used for a wide range of things, from puddings, to meat dishes, all the way to pet food.
Although Riviana®Foods products are quicker to cook on average, they still maintain a high quality. We understand that consumers tend to prefer organically produced foods which is why our rice goes through rigorous processes in order to ensure they meet the highest standards.
As always Riviana® Foods is committed to ensuring that our products are on the forefront of cutting edge technology to make our customer's lives simpler.