How to Download this Guide
You can simply click on the picture below to download a free PDF copy of From Field to Frozen: Protecting Your Economy & The Environment.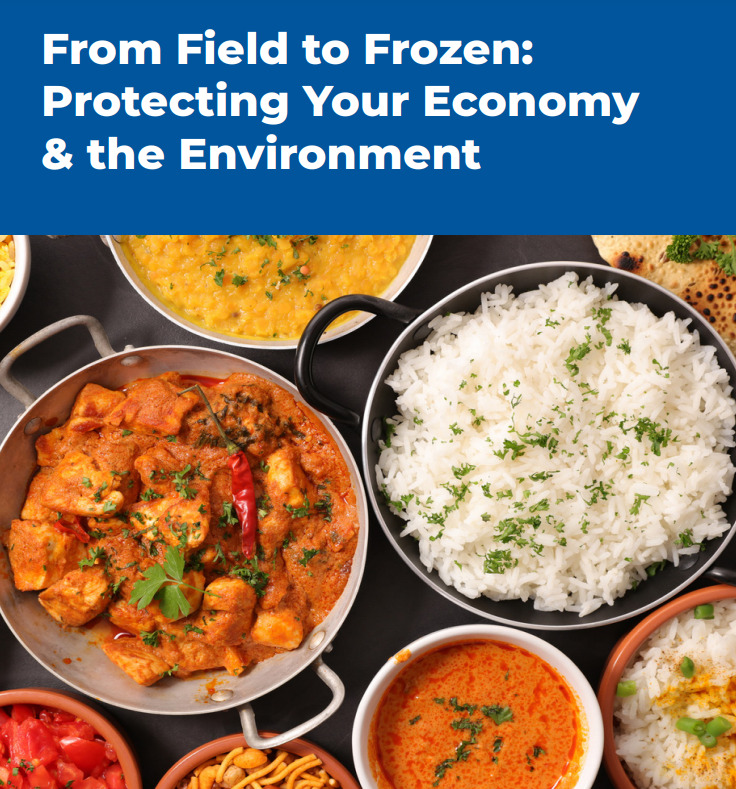 About the Guide
Due to certain socio-economic changes brought about by the Covid-19 Pandemic, frozen food sales are on the rise. However, a lesser known factor in the general public's switch to frozen food is environmental concerns.
With a growing demand for meat-free and plant based meals along with a desire to reduce food and product waste, there has been a significant uptick in the sales of IQF (Individually Frozen Foods.) IQF products have safer production standards along with a higher quality than other more traditional frozen foods. IQF products are also, on average, more economical per serving than non frozen foods.
It is a myth that with frozen foods you need to sacrifice quality or any nutritious benefits. Believe it or not, it is perfectly possible for consumers to maintain a varied and balanced diet with frozen food with plenty of rice and grain types available in a variety of different colors and flavors. The produce is normally frozen at peak freshness and pre cooked after being cleaned. Using cutting edge IQF technology, the food can be frozen in a way that key vitamins, minerals and the taste are preserved. Once frozen, customers can prepare only what they need and save the rest for later, thus reducing waste.
In addition, Ebrofrost North America are able to offer frozen organic non GMO project verified, SQF-certified, Kosher and Halal rice, grains and pasta.
So in summary, with IQF products you can conveniently and quickly prepare a nutritious and delicious meal while simultaneously saving money and waste.
Note: All products are frozen without the addition of preservatives, synthetic colors or additives.