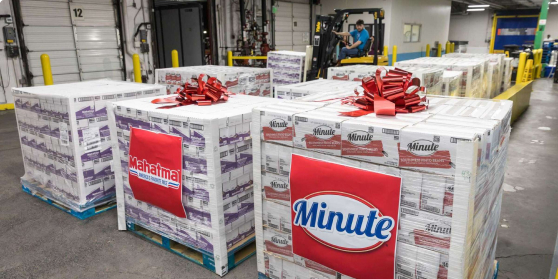 Riviana Foods is committed to giving back to our communities. We support organizations all over the US in their mission to put food on the tables of the families who need it most.
Riviana Foods products such as Mahatma® and Minute® Rice are regularly distributed to people in need. They are distributed through various food banks and organizations throughout the United States that have partners such as food pantries, soup kitchens, social service providers and schools.
In addition to donating food, Riviana Foods also provides volunteers to help prepare donations, and unpack boxes.
Our work
By working with locally-focussed programs, Riviana Foods is able to efficiently offer their assistance to specific communities in need.
Throughout difficult times such as the COVID19 pandemic, Riviana Foods also provided invaluable support to frontline workers like nurses and first responders.
During 2022, Riviana Foods made donations for more than $425,000 to those in need by delivering over 250,000 units of rice products to food banks all across the country as well as cash donations to different organizations.
Stay up to date with Riviana Foods to learn about all the ways we are helping to give back to the community.